Circle of F00d genomineerd v00r de DJ100!
Met Circle of Food werken we keihard aan een houdbare toekomst en zetten we ons in voor een circulaire voedselketen. Het is daarom een erkenning om genomineerd te zijn voor de Duurzame Jonge 100!
Wat is DJ100?
De Duurzame Jonge 100 geeft een overzicht van jonge ondernemers, young professionals en studenten die aantonen dat een duurzame toekomst mogelijk is. Deze koplopers zijn een bron van inspiratie voor elkaar en voor de gevestigde orde! Elk jaar kan je jezelf of iemand anders van 32 jaar of jonger opgeven en zal een 10 koppige jury de 100 meest inspirerende jonge koplopers uitkiezen.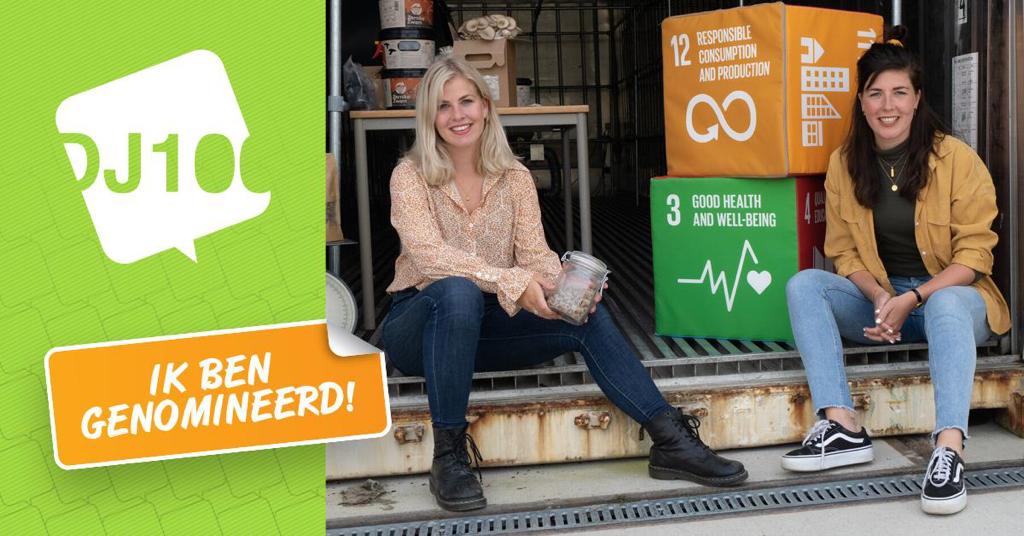 Circle of F00d Genomineerd
De DJ100 biedt dus een podium voor duurzame innovaties. Het roer moet namelijk om. En dat is precies wat Circle of Food ook vindt! We willen samen naar een houdbare toekomst. Met de Zwampasta op basis van oesterzwammen die worden gekweekt op koffiedik en volkorenmeel willen wij bijdragen aan een circulaire wereld. Door een zakje Zwampasta red je al 7,5 kg koffiedik van de verbrandingsoven, hoe tof is dat?
Voor Circle of Food is de Zwampasta nog maar het begin. Het is onze missie om het circulaire voedselsysteem de standaard te maken. Daarom zijn we druk bezig met het ontwikkelen van meer circulaire producten en diensten om deze transitie in gang te zetten. Onze missie schreeuwen we het liefst van de daken, het is daarom extra tof dat DJ100 ons een podium geeft. Zo kunnen we nog meer impact maken! Daarnaast is het een enorme eer om genomineerd te zijn voor een lijst vol jong talent die een warm hart voor duurzaamheid heeft!
Hoe kun je stemmen?
Je kunt stemmen op je favoriet, zowel Elise als Hilly is genomineerd. Trommel je oom, tante, buurman en vrienden op om massaal te stemmen! Zo kan onze missie nog een groter podium krijgen en kunnen we samen naar een houdbare toekomst.
Je kunt via deze link stemmen op Hilly Lautenbach
En via deze link stem je op Elise Brugman
Zorg ervoor dat je je e-mailadres invult, zodat je stem telt! Alvast bedankt dat jij samen met ons naar een houdbare toekomst.